Make a Difference in a Future PAs Life
Contribute to the MEDEX Scholarship & Emergency Fund
Every April, MEDEX awards a number of our current students with cash scholarships averaging at $1,000 apiece. Scholarships are awarded at the April MEDEX Alumni Reception & Awards Ceremony in SeaTac, WA. Currently, we have seven scholarships that are managed by UW Advancement with various levels of funding.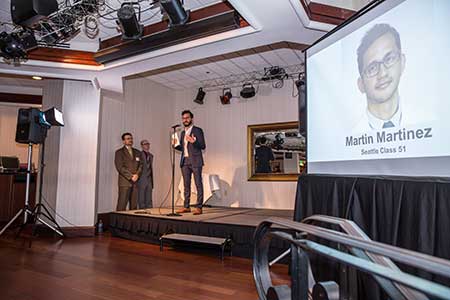 Martin Martinez of Seattle MEDEX Class 51 accepts the 2018 Christopher A. Heim Memorial Award
Richard A. Smith Scholarship (4 awards each year)
Susan Vader Scholarship
Mike Merrill Scholarship
Barbara Gunter-Flynn Scholarship
Jennifer Johnston Scholarship
Liza Benson Scholarship
Christopher A. Heim Student Support Fund
All these funds were established by financial gifts from the namesake individual or their families and friends. Learn more about these scholarships on the MEDEX website.
There is also the MEDEX Student Emergency Fund made possible through generous donations to provide compassionate assistance to students who encounter catastrophic events that may hamper their academic progress.
The current cost of the 2-year MEDEX program is at $73,000, way up from when you were a student, and that's for tuition alone. Contributing to any one of these funds increases the number of worthy students that we can help. Please donate here.